Springer's Point is a gorgeous nature preserve with a legendary past. Populated for centuries, and open to the public, this small parcel of Ocracoke Island is one of the last undeveloped sections of land on the island, and thanks to extensive efforts by the Coastal Land Trust, will forever remain that way.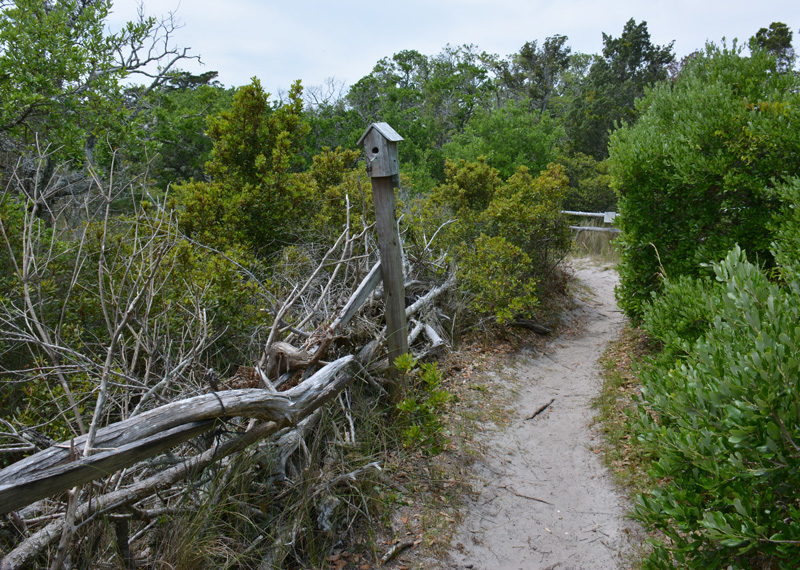 The preserve is an attraction for visitors of all genres. Birders and nature lovers will appreciate the small but diverse nature trail that circles through the area, OBX history fans will enjoy plodding along Blackbeard's original stomping grounds, and families of all ages will love the quiet landscape, cool shaded breezes, and remarkable views of Teach's Hole and the Pamlico Sound.
On your next expedition to Ocracoke Island, take a little exploration off the beaten path and the bustling attractions along the Ocracoke Harbor, and spend an afternoon exploring Springer's Point. With acres of terrain to explore, and plenty of natural sights to admire along the way, you're sure to find a Springer's Point visit a relaxing addition to any Outer Banks vacation.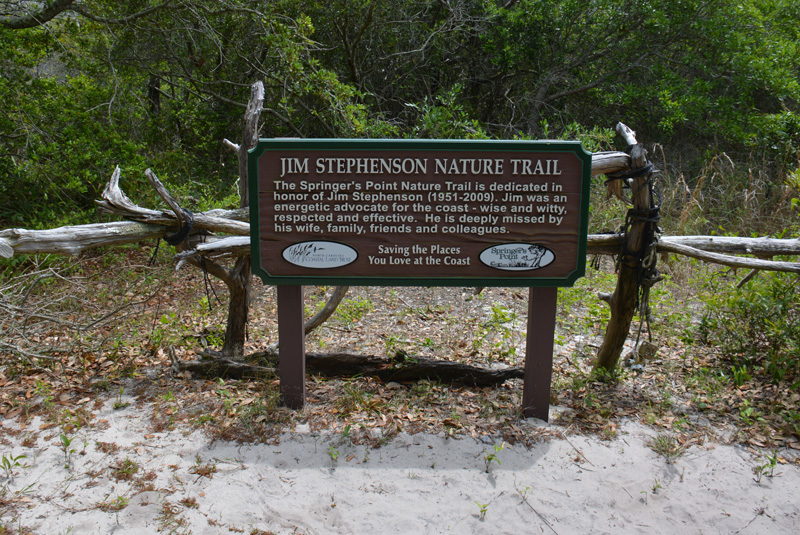 History of Springer's Point
Though today Springer's Point is inhabited only by Ocracoke's wildest of natives, specifically the birds, reptiles and mammals that call the preserve home, for many centuries Springer's Point was a hot spot of human activity.
Historical records suggest that the 120+ acre site was settled as far back as the early 1600s, as its location close to the Pamlico Sound allowed for exceptional fishing and easy shipping or transport, yet its seclusion in the deep thickets of maritime forest kept it protected from the elements and hurricanes.
For many decades, the area was just one small and insignificant section of Ocracoke village, which was an incredibly busy portside community that allowed access for ships to the mainland via the Ocracoke Inlet, and at 4 square miles, had limited space for residents, tradesmen, and passing mariners.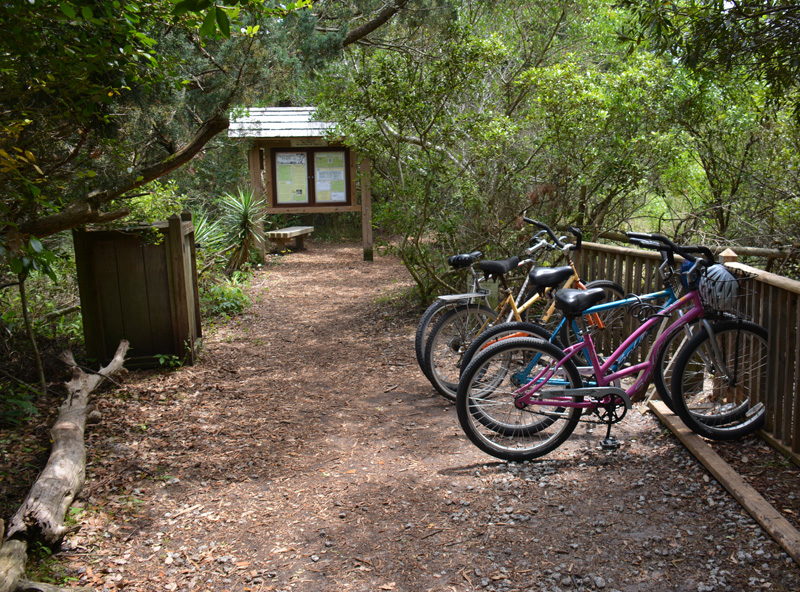 However, Springer's Point became a notorious Ocracoke Island locale in the early 1700s when it caught the eye of one of Ocracoke Island's most famous visitors, Edward Teach, better known as Blackbeard the Pirate.
Blackbeard was well-known along the Eastern Seaboard as one of high seas' most dangerous, (and incredibly successful), pirates, and he plundered a number of ships all along the new American coastline.
It wasn't until he arrived in Ocracoke, however, that he discovered truly spectacular and fruitful plundering grounds. On Ocracoke, Blackbeard could skirt through the inlet and raid the passing ships which were well stocked with supplies for the mainland, and simply escape by essentially disappearing along the soundfront or oceanfront, eluding capture by simply "hiding" behind the barrier island.
After a number of successful ventures, Blackbeard effectively settled down along the Outer Banks, with a full-time residence in Bath, North Carolina, located just across the sound on the mainland, and a seasonal hide out on Ocracoke Island known as "Teach's Plantation." Here, in the current Springer's Point preserve, Blackbeard and his crew could remain relatively anonymous and undetected while enjoying the beach life, and a little plundering on the side.
Blackbeard spent a lot of time along the grounds of Springer's Point and even met his end in November of 1718 just off its borders in the Pamlico Sound. At this spot, now known as Teach's Hole, Blackbeard was finally killed in one last ferocious battle with the British Royal Navy, and the area was named in his honor and called Teach's Hole ever since.
Today, historians and legend lovers alike enjoy a good stroll through Springer's Point, to take in all the scenery and seclusion that attracted the infamous pirate in the first place. Legends still swirl around Blackbeard's presence on Springer's Point and Ocracoke Island, and rumor has it that there is still unburied treasure left behind by Blackbeard himself, buried under some unimposing sand dune within the preserve.
After Blackbeard was long gone, Springer's Point passed through several series of ownership over the centuries before finally becoming one of largest parcels of privately owned land on Ocracoke Island. By 2002, however, available lots for development along Ocracoke village were understandably few and far between. Concerns began to grow on both a local and national level that this last undeveloped parcel of Ocracoke history would eventually be sold and developed.
As a result, the Coastal Land Trust purchased a portion the future preserve, specifically 31 acres of the land, and opened it to the public in December of 2002, which they were able to do with grant funds from the State Clean Water Management Trust Fund. Just four years later, in March 2006, the Coastal Land Trust purchased a much larger tract, known as the McWilliams Tract, adding the remaining 91 acres to the Springer's Point Preserve. This second purchase was accomplished with grant funds from the State Clean Water Management Trust Fund, and Springer's Point was now a whopping 122 acres of untouched, natural landscape in the heart of busy Ocracoke Village.
Throughout the past decade, Springer's Point has been able to complete restoration work to the maritime forests, construct various visitor amenities including informational kiosks and walking trails, and hire a Preserve Steward to keep watch over the grounds and answer questions or provide information as needed.
Today, Springer's Point is wide open to the public and is enjoyed by thousands of Ocracoke Island visitors every year. Still secluded and still filled with legends of Ocracoke's stormy and plundering past, Springer's Point is literally a wild, living, breathing example of the Ocracoke Island of centuries ago.
The Geography of Springer's Point
At 120 acres, Springer's Point takes up a remarkable portion of Ocracoke Island village, but surprisingly, is hard to spot from Ocracoke's main roads and can even be a little tricky to find. Located north of Ocracoke Harbor and bordering the soundfront, the unimposing entrance to Springer's Point is overshadowed by neighboring rental cottages and the Ocracoke Island Lighthouse, located just one quarter mile or so away.
Adding to its seclusion is the fact that there is no public parking available for preserve visitors, a condition set by the state of North Carolina when they provided funds for the original purchase. Instead, Ocracoke Visitors are free to park in the public parking areas around the island, (like adjacent to the Ocracoke / Cedar Island ferry docks), and simply stroll or bike to the preserve's borders.
Once there, visitors will be greeted with an informational kiosk and large map outlying the areas of the preserve, as well as the entrance to the nature trail that winds all the way to the Pamlico Sound and back. The Preserve consists of an ancient maritime forest, small parcels of salt marsh, wet grasslands, and soundfront bordering the infamous Teach's Hole. In short, Springer's Point offers a small slice of the standard Outer Banks ecosystem of salt water landscapes and deep maritime forests, and visitors can enjoy the spectrum of the Ocracoke Island environment with a simple, self-guided hike along the nature trail.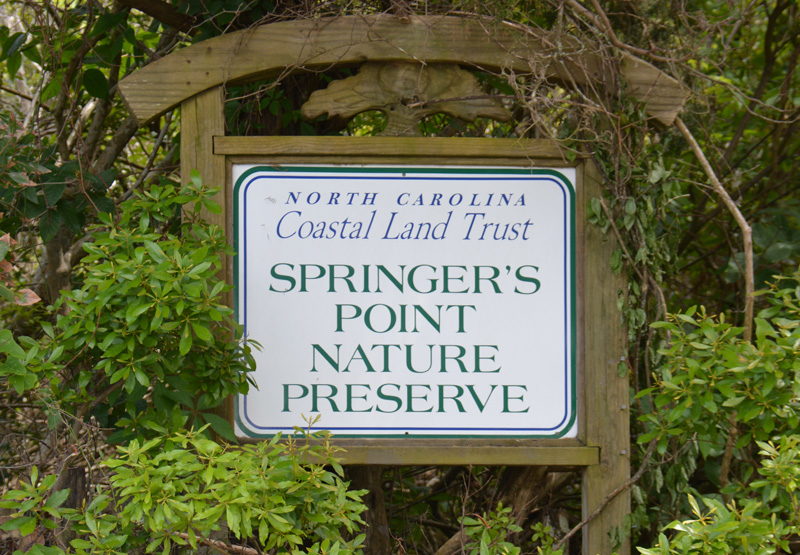 Wildlife and Exploring Springer's Point
The nature trail in Springer's Point preserve is an easy walk. At just one half mile to the sound and back, it's accessible by visitors of all ages, and plenty of benches are located along the way to take a break, and enjoy a healthy breath of fresh air.
Small identification markers are located throughout the preserve, marking plant and tree species of interest, and giving visitors a thorough education of their Ocracoke Island surroundings.
One of the first species of note visitors will encounter is the Georgia Sunrose, one of the rarest species the preserve has to offer, and located in its own secluded spot along the preserve borders. Blooming only once a year, lucky visitors who happen to catch the Sunrose's flowers will be wowed by the vibrant yellow standing out amidst the maritime forest and bordering ancient sand dunes.
As visitors delve deeper into the preserve, they will spot red bays, flowering yucca bushes, sea oxeye, climbing wild morning glory, and centuries old Live Oaks that were most likely alive when Blackbeard reigned the area. These towering, gnarled trees, with branches that twist and curve towards the sky, can be enjoyed by visitors of all seasons, as their evergreen foliage provides a shaded canopy throughout Springer's Point all year long.
As visitors head closer towards the sound, the wooded trees and plants are soon replaced with swaying grasses and patches of sand, eventually leading out to a small soundfront beach bordered by natural rock barriers. On a hot summer day, this section of the trail can be a refreshing break, as hikers can simply take a moment and get their feet wet in the salty Pamlico Sound waters. Be on the lookout for seashells, clams, and even ancient pieces of sea glass buried just underneath the sound floor's surface, and left behind by Ocracoke's original settlers and early residents.
Also along the waterfront, visitors who make a quiet approach may even spot snowy white ibises and egrets, with their long legs perched in the water, or even great blue herons, which at an average of 4' ft. tall, can make an occasional, breathtaking appearance along the marshes.
This soundfront parcel also overlooks Teach's Hole, and summer or shoulder season visitors will also notice a world of activity congregating just offshore. Here, small boats, skiffs, kayakers, windsurfers, kiteboarders, and even stand up paddle boarders pass by on a regular basis, creating a colorful soundfront display, and presenting some pretty fantastic views for folks who want to stop along the water and enjoy the scene.
On the way back through the woods, be on the lookout for Springer's Point's native critters, including opossums, nutrias, reptiles, occasional deer, and anoles, which are one of the most commonly spotted animals along the preserve. Anoles are small lizards that are about 3"-5"inches long, and make fast, quick darts along the nature trails, up and down the ancient live oaks, and even across the visitor signs and maps. Completely harmless and fun to watch, summer visitors with a quick eye will likely spot a good dozen of these lizards en route to the sound and back.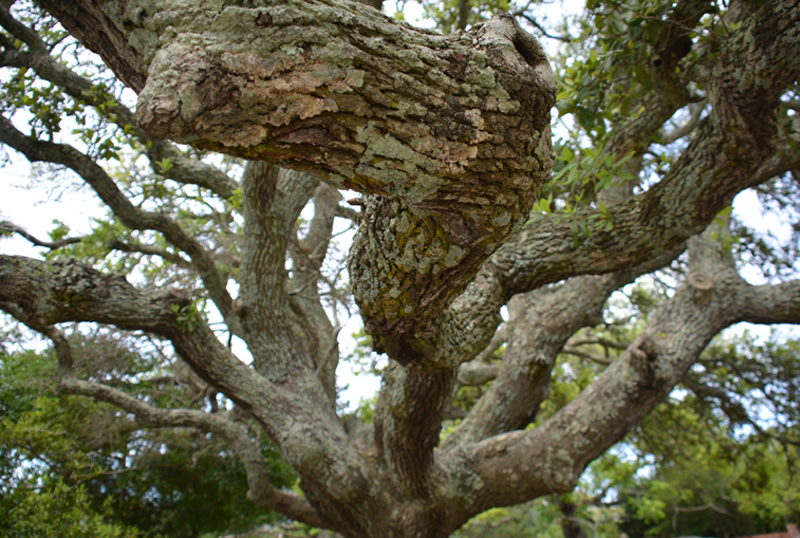 Tips and Tricks for Visiting Springer's Point
Summer vacationers should definitely bring along bug spray, as certain sections of the trail, particularly the marshy areas along the soundfront, can be popular locales for mosquitos as well as visitors. In the winter, be on the lookout for ticks which can be occasionally found in the deeper sections of the forest. Wear layers of clothing, and simply check yourself after a hike through Springer's Point, or any wooded Outer Banks trail for that matter.
The soundfront beach is an exceptional spot to relax and wade through the water, although many visitors find that a pair of flip flops or water shoes come in handy to guard themselves against sharper rocks or shell pieces.
While lounging in the Pamlico Sound, keep your eyes peeled for shells, including colorful scallops, clams, and even intricate augers or olive shells, as well as live clams. Clamming on the Outer Banks is best accomplished by digging your feet in the soft sound bottom and feeling around with your toes. If you feel the need to be productive while enjoying a waterfront front-row seat, use your feet and start digging. Chances are that hard bit of shell your toe uncovers is a whole clam that is ripe for steaming.
For exploring the nature trail, visitors may want to bring along a pair of sneakers. Although the trail is relatively mild, and a pair of flip flops will do in a pinch, a sturdy pair of walking shoes will ensure that a visitor is easily able to navigate through the different types of terrain.
Make sure you bring along a camera. Springer's Point features incredible views of some of Ocracoke Island's oldest live oaks, sprawling parcels of woods and ancient sand dunes, salt marshes filled with some of the Outer Bank's most impressive birds, and miles of open water sound views. A camera is almost a must around sunset, when the sun disappears over the Pamlico Sound and Teach's Hole, and Springer's Point visitors have one of the best and most secluded seats in the house.
Springer's Point is an island within and island, and an oasis for Ocracoke Island nature lovers who want a little peace and quiet without leaving the busy village limits. Hard to spot but easy to enjoy, Springer's Point offers a comprehensive sample of the Outer Banks' environment, compressed within a roughly 120+ acre preserve.
Visitors to Springer's Point will enjoy secluded hikes through the maritime forest, a brief and breezy tour through the marshlands, and an incredible wide sound beach that provides miles of Pamlico views. It's easy to see why Blackbeard staked a claim to this area, and visitors will be awed by both the untouched natural landscape as well as the centuries of history that preceded it.
On your next Ocracoke Island vacation or Ocracoke village day trip, take a stroll or a bike ride to Springer's Point, and discover this little patch of untapped Outer Banks scenery, located in the heart of one of the OBX's oldest and most popular towns.
Is this your business? Update your listing by messaging us